I applied because I apply for everything that might move my art career forward. But I also love the show. A good artist friend of mine, Anna Perlin, was on the last series and did very well, winning her heat and doing well in the semi-final. And it's a great format, where they want everyone to do their best work, they are kind to everyone and there are no real losers, only a winner of each heat. I also wanted to start working outside, en plein air as artists say, and this would be the spur to do it.
However it did take me by surprise when I heard I was on. And a little panicked. I sat straight down though and drew up a plan. I had roughly a month until the competition. The show gives you 4 hours to make a work, so I planned out my time to make 28 pictures – one a day, two on some days! The location I'd been given was Paddy's Hole, which is a small natural harbour on the south bank of the river Tees near Redcar. So I thought boats, which is a great subject for me, and was actually the content of my submission piece, Paddling.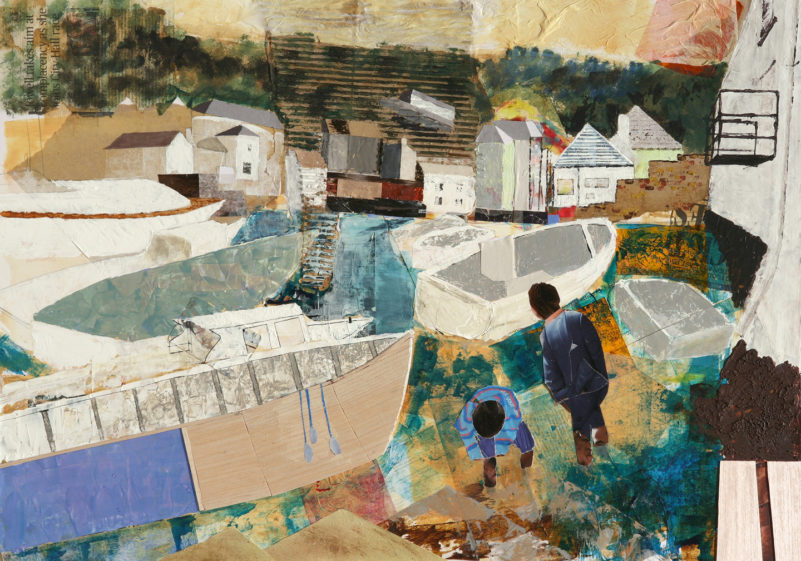 Living in St. Albans, there's not a lot of boats though, so local boating lakes and canals came into play. I had a day down on the Essex coast. It was great, no time to think – I simply picked a location the night before on Streetview, turned up and started working. The plan forced activity, which was great. I had two trips up to the north-east to reccy the site and do some more practise. The show's format, which requires 8 large 'pods', sort of super-gazebos, to all be looking at the same view in a line meant the number of locations was strictly limited, and I felt 3 locations were possible, and I practised all 3 (I was proved right too! – very happy). The plan had not allowed for bad weather of course, and I had some wet and windy days – this part of Teesside is very remote and exposed, jutting out into the North Sea, and, as you'll see in Episode 5, when the wind blows even in Summer it's a challenge. Interestingly I felt I produced some of my best paintings on these wet and wild days, which is a great learning. Here's me trying to paint from my car boot (this is the end of May)!
I thought I might meet some of the other competitors, but I don't think anyone else came for a look, which was surprising to me. I did meet another artist who had been on the show in a previous series elsewhere. He said to me, "Don't commit too much, then you won't be disappointed". This seemed to me an extraordinary attitude, I really felt this was a wonderful opportunity for learning and new experiences, if nothing else, and I was wanting to grab it with both hands.
The day of the heat arrived all too quickly. They film two episodes at the same location, on consecutive days. I was on the second day. The weather on the first day was rough, and caused some chaos (which you'll see in Episode 5), but our day was calmer and fairly bright. Our view was the one I thought would come up, but not the one I'd have really liked, which was the harbour. Instead we were looking across the fishermen's huts to the old steelworks (now dis-used). Not a view I'd have chosen ever to paint, but actually really interesting and somehow monumental.

One of the reasons I've never painted outside is that I thought I would not enjoy strangers coming over for a chat. I'm not very good with small talk, especially when I'm painting! But in fact most people just ignore you, getting on with their own lives. And those that do chat are of course perfectly pleasant, and soon get bored and move on. On my practise days though I did attract the attention of several of the 'fishermen' who rent these huts. And an interesting bunch they are. It's a fantastic community. The waiting list for a hut is longer than it is to get a place at Eton! It's so remote, and feels really wild in a way I've never experienced in England before. Most of the huts are lovingly maintained and improved. Apparently many inside resemble your living room.
The day of the heat started early, 6am. It became pretty clear that of course the primary aim was to make a TV programme, not run an art competition. I could not believe the number of people there, maybe 100 staff. I even had a gopher who followed me everywhere and got cups of tea on demand! There were many interviews and questions, before, during and after the painting time, which I found difficult to cope with. I couldn't really get in the zone. The whole thing though was an amazing experience, and such a buzz. And I was pretty happy with my final piece, I felt I'd done myself justice to how I work. I can't tell you the result of course, you'll have to watch. And the best thing were the people, everybody was incredibly pleasant and kind, and really looked after us, including Frank Skinner and Joan Bakewell, in fact especially them. I haven't seen the final programme, so I'm very nervous about recommending it. I suspect I'll be watching between my fingers – I hate seeing myself on film! But anyway, I do encourage you to find a way to watch.
All too soon the day was over, and as the adrenelin finally drained away, I of course felt very flat. But as I reflected on the long drive home and over the following days, it had been so worthwhile. I had pushed myself into a zone of great discomfort, and through this I had developed a way of working which meant I could produce a work in a day. I built a stock of 20+ paintings, and actually working outdoors and under time pressure forced an energy and excitement into the best pieces which felt great. Through the rest of the summer I continued to make works outside, and returned to my studio works. I loved the contrast and the choices in working methods I now had. Would I do it again? Definitely yes. But I'd like to work even bigger and looser at it! And I'll definitely take headphones.